To be honest I was a bit anxious yet super excited to try this program. I figured out a good chunk of time in the year (May) that I could truly focus on my nutrition and not have <<to many>> commitments or hurdles.
Given that I am a health & fitness coach many wondered why I felt I needed to do this at all.
"You don't have to lose anymore weight."
"You eat so healthy."
I have learned this program will work you inside & out. I was actually not prepared for the emotional growth and effects it would have on me. I chose to do this, because ever since my October 2016 Diastasis Recti diagnosis I have been modifying programs and confused about what was really optimally running my body well vs. causing it to bloat and feel, well, pretty horrible. What people also do not realize is that only YOU live inside this body. They cannot possibly understand the ins and outs you face for your body to run 100%.

Here is what the Ultimate Reset® is vs. isn't:
The Reset helps to improve energy, lose weight, and get back on track to better health in just 21 days. "If you're feeling tired and sluggish, give yourself a comprehensive inner-body tune-up. In just 21 days, the Ultimate Reset® can help you gently restore your body to its optimal "factory settings", to help you feel energized, enjoy better digestion, lose weight, and reclaim your overall health."
> Everyday I ate 3 whole meals and a snack
> Drank a gallon of water
> Took supplements (carried them around in a little pouch)
> Did light walking, stretches, or yoga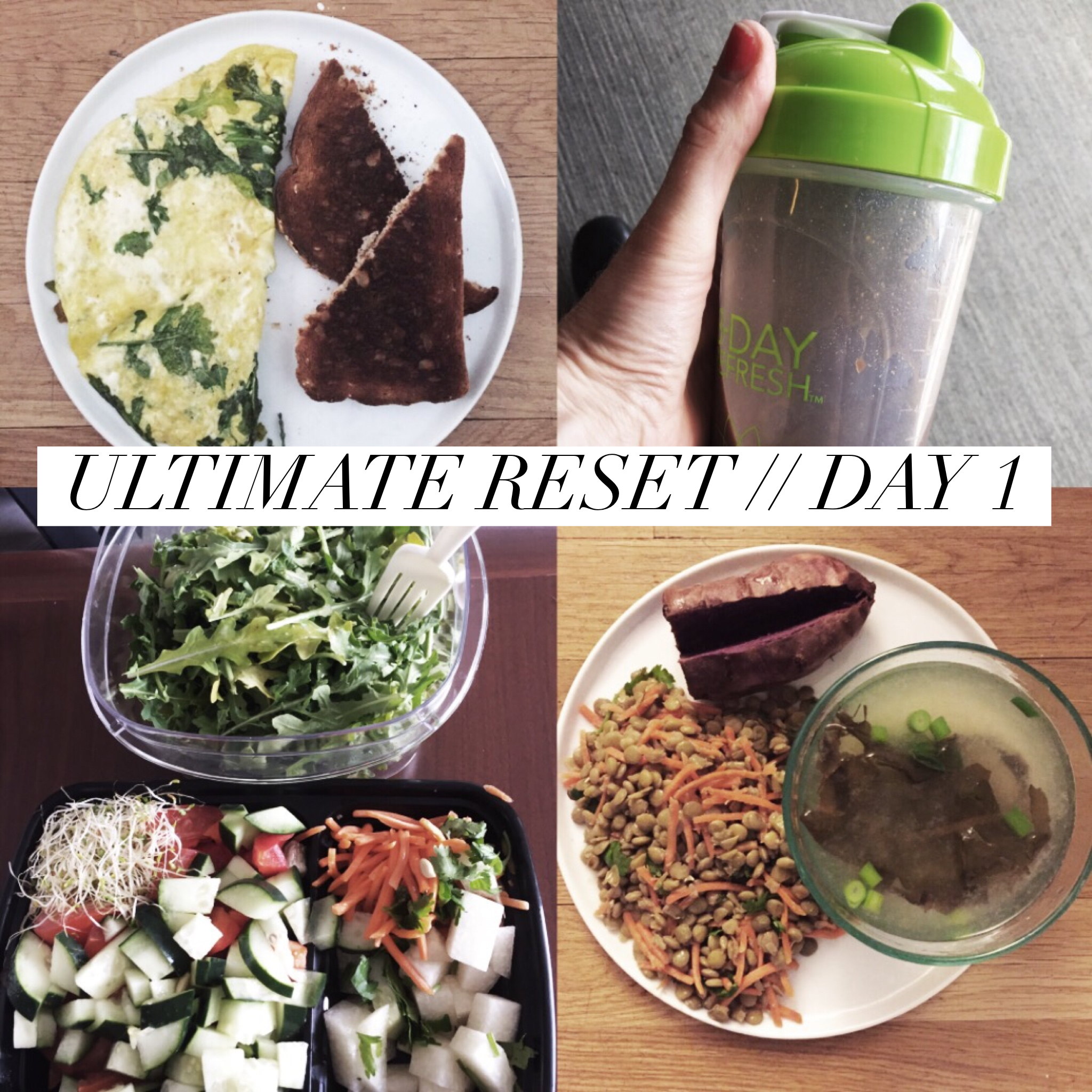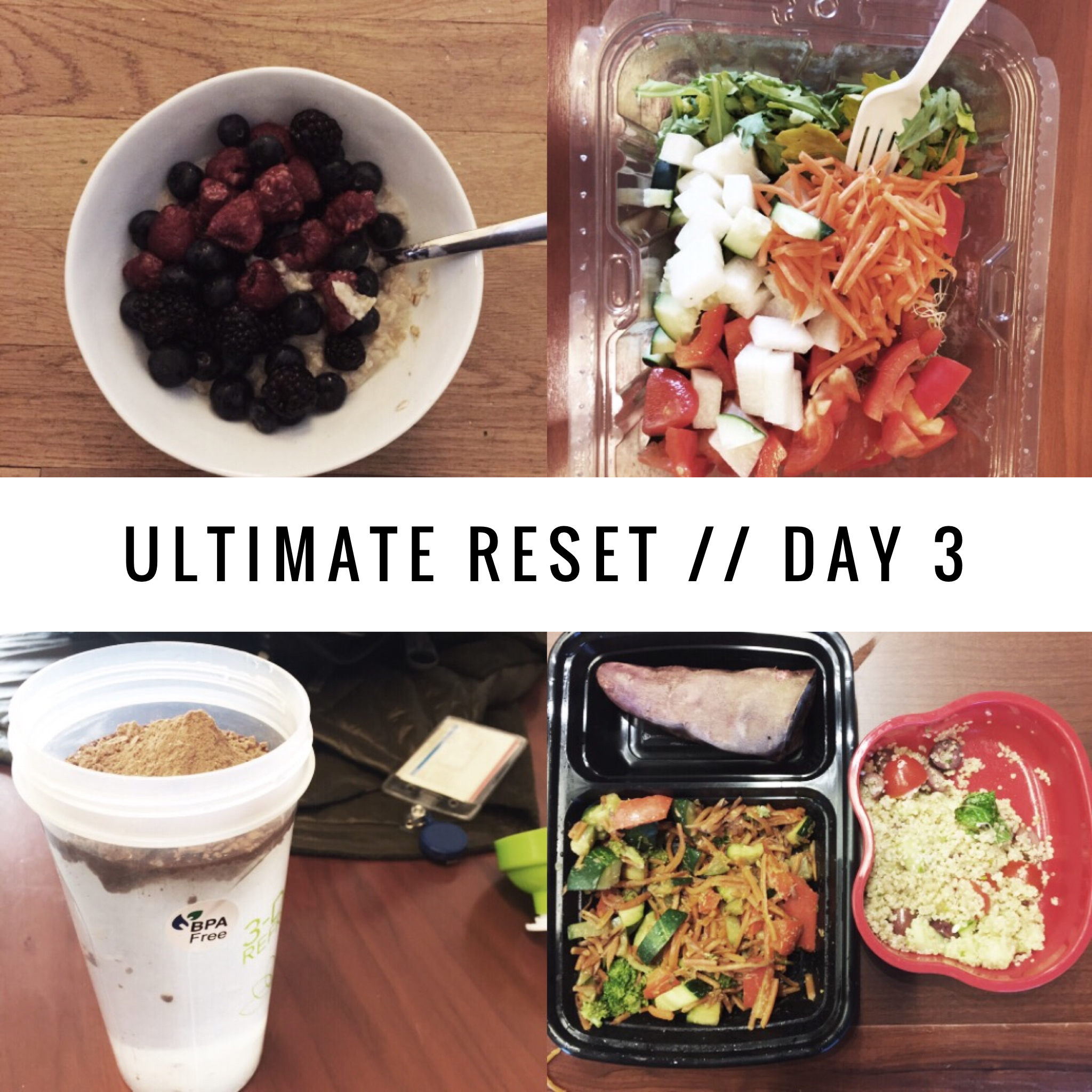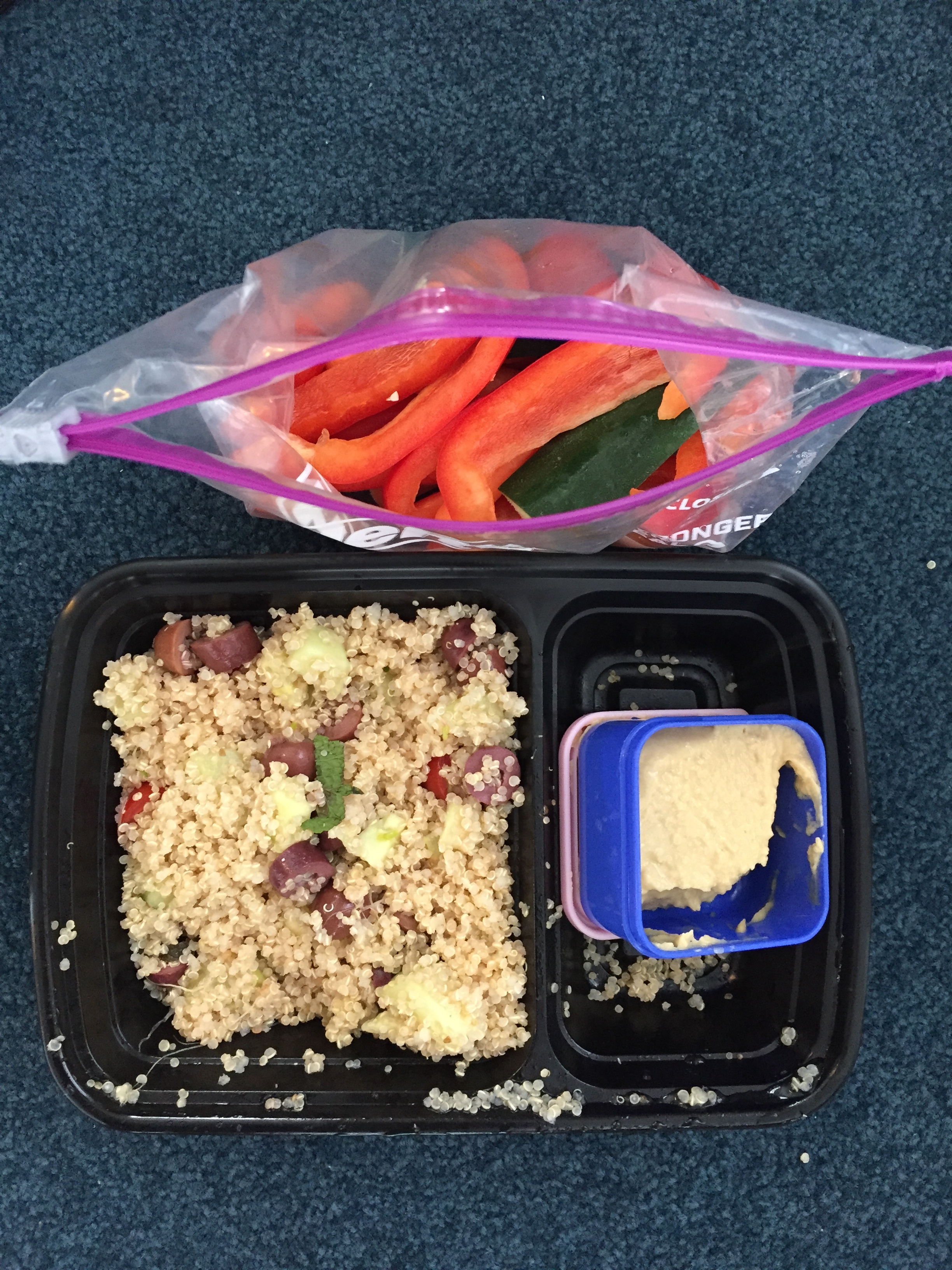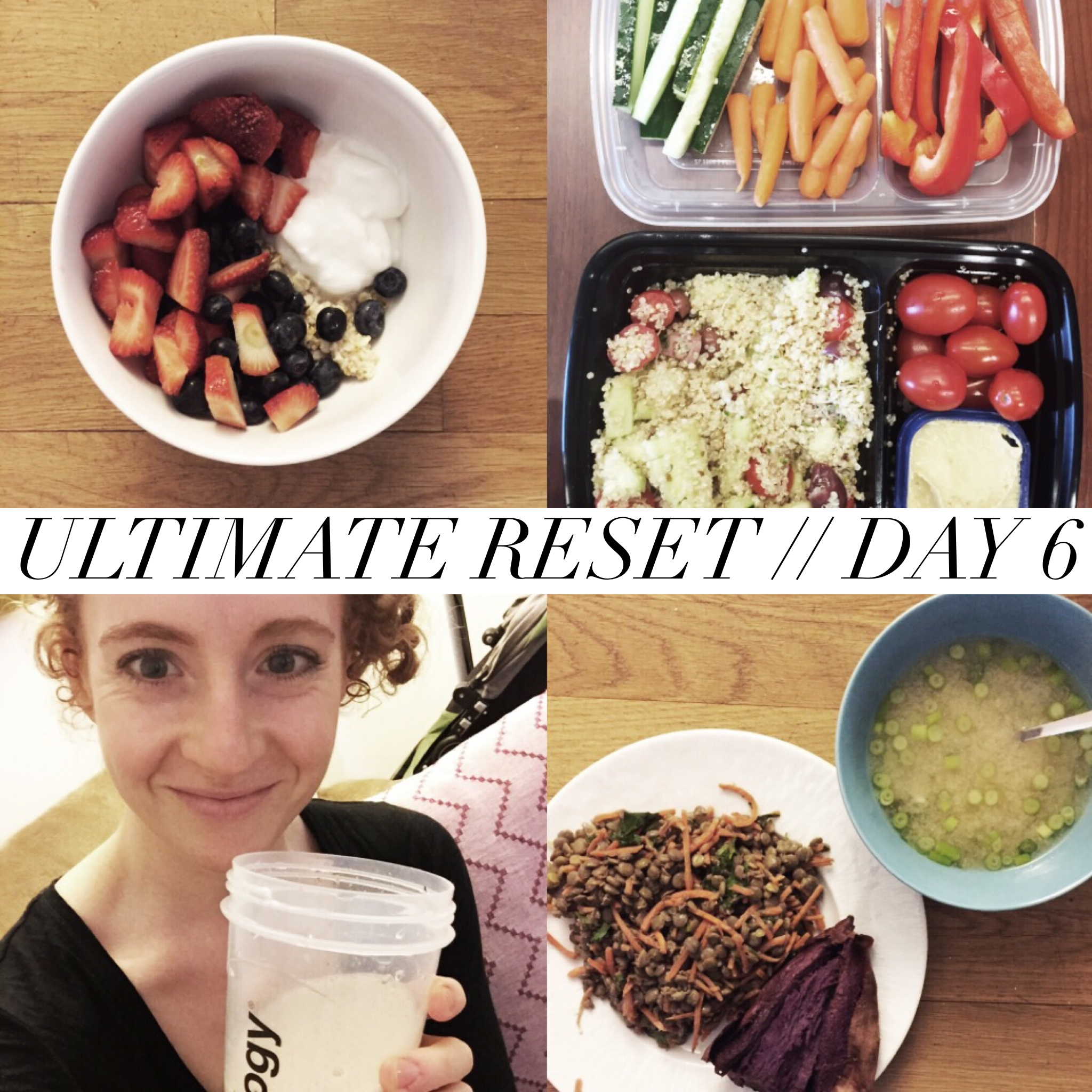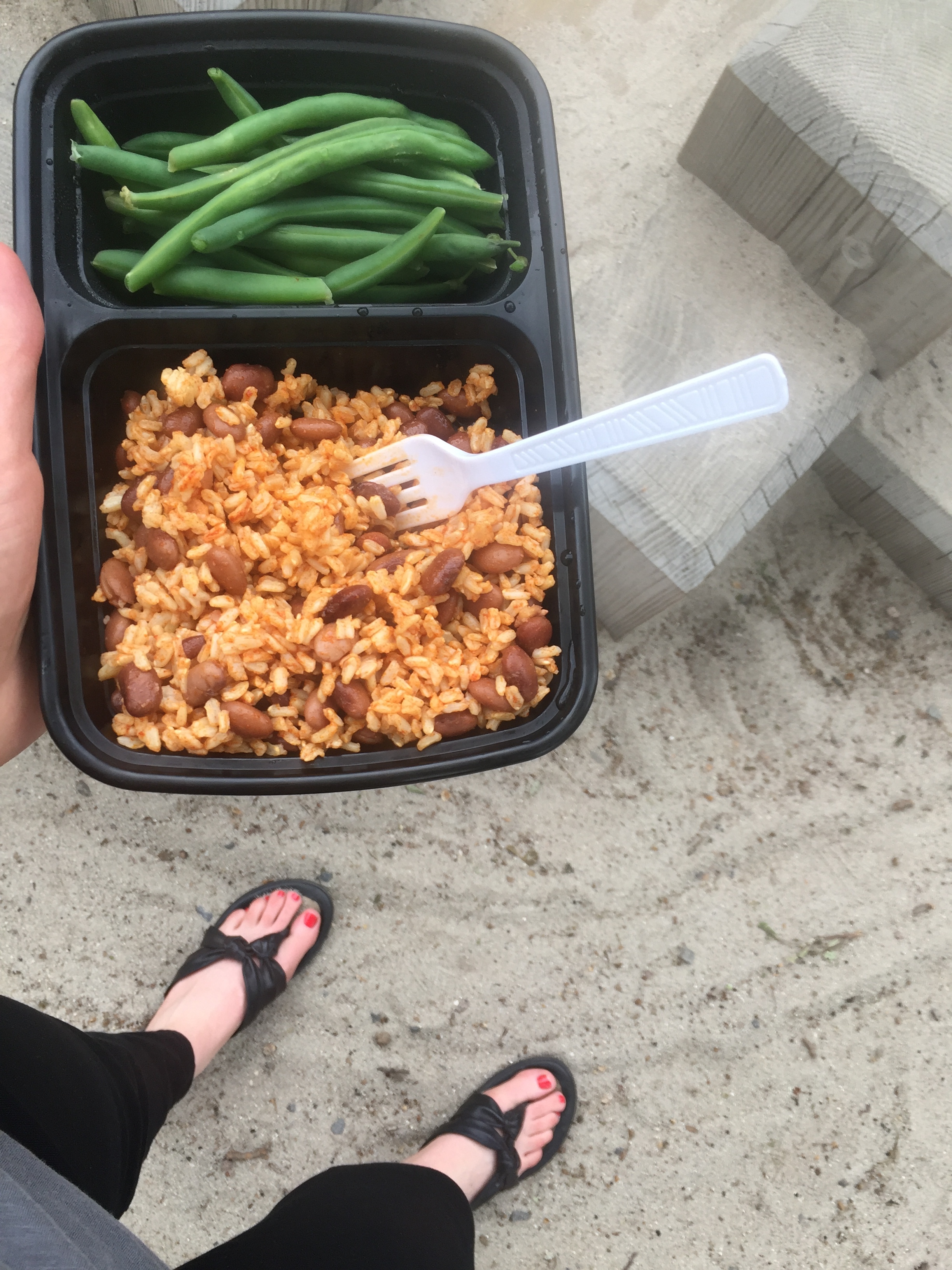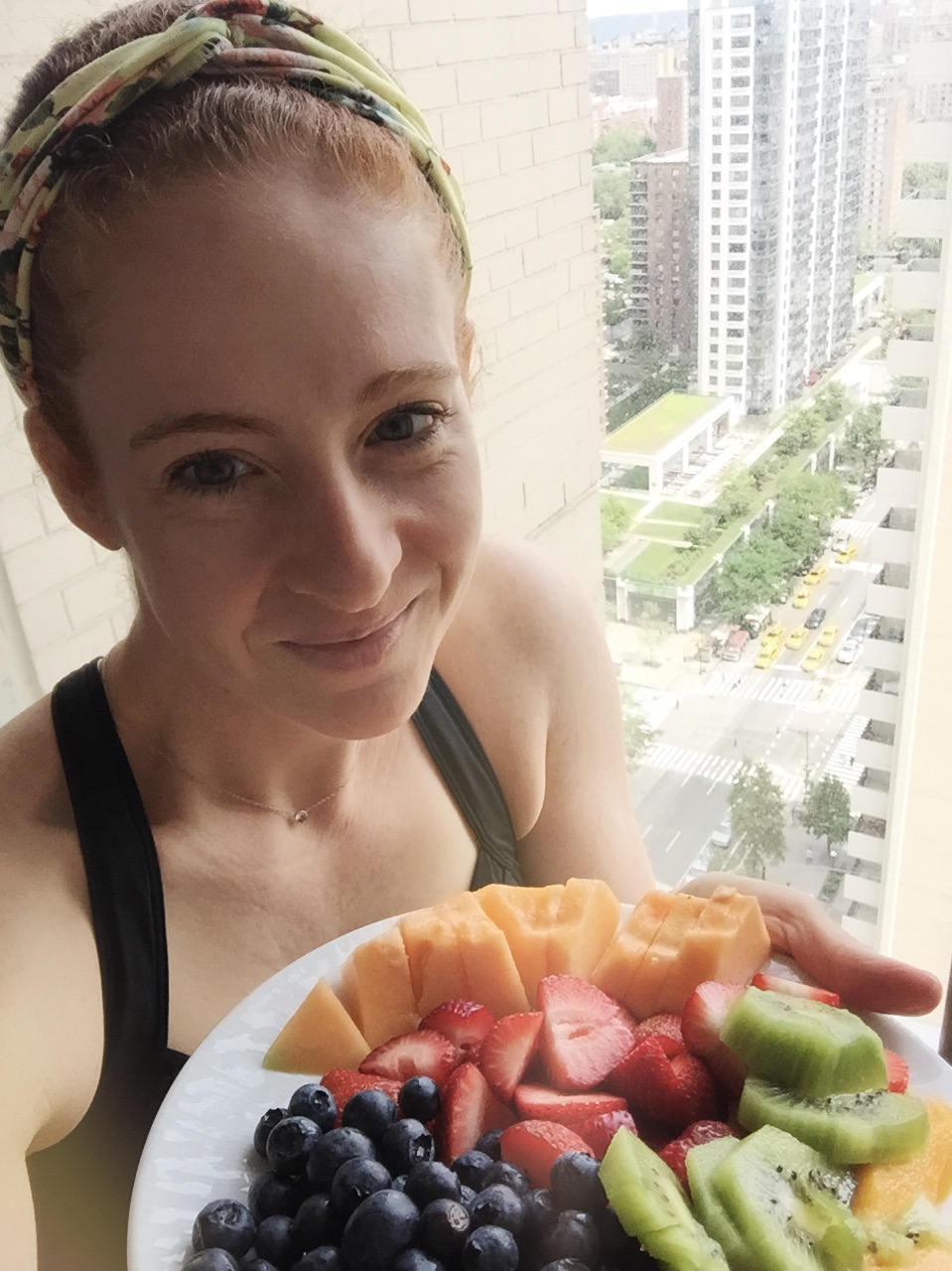 This isn't easy. I'd actually compare it to one of the harder Beachbody workouts like Insanity if I had to make a comparison. You have to be prepared with food. It was awesome to have everything meal-prepped and ready to go, in all honesty. I am going to prep like this ALL THE TIME!
This isn't a quick fix. It is 21 Days and each week is a different Phase. It's not a cleanse either. It's a no-starvation, multifaceted life-changing, cutting edge, this is the real deal, inner-body tune-up. It helps revitalize your body and mind, and fuel your body with the micronutrients and macronutrients it craves.

Reclaim. Release. Restore.
Phase 1 - Reclaim. Week One.
I gradually removed foods from my diet this week such as meat & dairy, which are known to put stress on the digestive system. I honestly was surprised at the large food portions and was getting adjusted to the new times to eat vs. grazing on meals all day (like I usually do). I was working on a huge project and sat in a team room all week. I brought all my food & purchased a gallon jug of water to bring to the office. It was actually pretty easy to stick to the plan in the stressful work situation.
I was super sore! This was hard and unexpected. My legs ached like I had run a marathon. My hips hurt and it reminded me of when I was pregnant. It was hard to get comfortable at night, but I took baths with epsom salts and panaway oils that helped a lot.
Was I hungry? Yes - but mainly because my body was adjusting to the new foods and times to eat. I drank tea and loads of water that kept me distracted in between meal times.
I went bed early (about 10pm) almost every night. You really do hit a wall and can't function much after that.

Phase 2 - Release. Week Two.
This week was 100% vegan and you begin to release unwanted compounds that have been holding your system back and start the detoxification process. This phase also includes a gentle colon cleanse and digestive support.
I was definitely not prepared for this week. Release! I felt like crying a lot. The body is doing some deep digging and not only are you releasing toxins, but also emotions. I was also irritable. I really tried to minimize my interactions and take care of myself this week. You also break out a little bit - (but it goes away in Week 3). The food was incredible and some of my favorite recipes like Quinoa-Lentil Pilaf were introduced. I wasn't to hungry in between meals. It was challenging in other ways like I mentioned. <<Still super tired at night!>>

Phase 3 - Restore. Week Three.
Ahhhh finally. This week was the icing on the cake. (with no cake of course :-) This week was all about restoring your digestive system, along with other internal processes, to maximum efficiency, putting nutrients, enzymes, and pre- and probiotics back into your body. Grains were out out and it was all fruits and vegetables! I felt amazing, especially compared to the other weeks. Your energy starts to come back, no more irritability, and a clear head comes to the surface. I wished the Reset went on for longer once I got into this phase!

Phase 4 - Maintenance.
I am still sticking to the recipes in the book and ordered some supplements to take me into the Maintenance phase. I am excited to keep up the new habits I have formed. Which leads me to what I learned :-).

What I learned:
Looking back I am not sure what I thought I'd learn on the Reset, but it definitely was a teachable program. I eat healthy, but this program gave me a completely new relationship with food. I didn't realize all the times I wanted to reach for food - to fill gaps of time in the day, at work, when I am bored, and surprisingly when I am on Amtrak. The gaps of time in between meals was so the body could optimize digestion and rest in between meals.

>My bloating went away - I feel incredible with this amazing result from the Reset. I have suffered immensely due to my Diastasis Recti in this area and no I'm not cured, but nutrition is so key to managing this! I am slowly going to bring back into my diet the foods I was avoiding, so I'll know what causes the bloating I experience.

> Meal times - I loved sticking to the bigger meals once I got the hang of it. I am no longer reaching for foods in between meals and hope to keep this up. My body just doesn't need it!

> Meal prepping - I do meal prep, but this took it to a whole new level. I portioned out all my meals for the week in containers and it was super easy to just grab and go. I am so thankful I prepped, because during the week you are tired from the long day and the last thing you want to do is prep for the next day. I made the program super easy for myself by picking a few foods each week from the recipes and duplicating them.
> Treats - Shakeology is an optional snack on the Reset and since I never miss a day I looked forward to it at 3PM daily. The new vegan flavors came out recently, so I saved them as a treat and something special for this experience.

> Accountability - We had a small group of us all doing the Reset together. It was great to check in with each other to see how we were feeling and encourage one another during some of the harder days.
I share my results here, not to show you how far I have come, but to show you it is possible. Nutrition is absolutely everything. Whether you follow the 21 Day Fix containers or a program like this to whip your nutrition into shape, it's incredible what you can do in 21 days. The body is a miracle and treating it how it is meant to function is a gift you give yourself.

I am a single mom to a 3 year old. I have a busy full-time job and traveled on Amtrak several times during the 21 Days. I celebrated Mother's Day, had work events, birthday parties, and just unforeseen life events that I attended and was still successful while doing this. No excuses here and no reason to avoid anything while you do this. My challenges just push me harder.

This program taught me so much, especially about my relationship with food. I'm excited to lead others to complete this. When you jump onboard you also get coaching (me) to help you.

Who is the for? Absolutely everyone! They actually tell you to get blood work done beforehand and after so you can really know how it has effected your body. There are so many who have had life changing results. Here is a quick video that talks more about what I went through.

I am always here to answer questions or speak to this in more detail. Just ask.